Different types of GRP Covers for Manholes and openings are available by FZ for all over UAE and Middle East for many major projects. Main service areas for GRP Covers are Sewage Treatment Plants, Power Plants, Oil & Gas Plant, Desalination Plants, and Aluminum Industry etc.
Open Mesh Grated covers: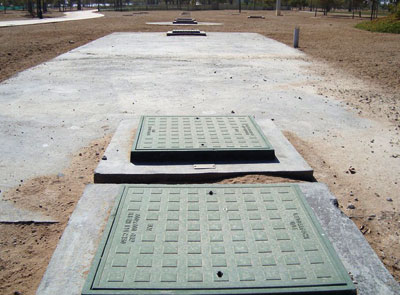 Open Mesh Grated covers/ platforms are made up by GRP moulded Gratings planks supported with GRP pultruded structural members. The design shall be performed according to the customer requirement. The size and depth of the grating and the span will vary according to the requirement and loading.
Components

1. GRP Gratings
2. GRP Profiles & I-sections
3. Thick GRP Brackets and Angles                            
Solid Top Grated Covers:
Solid top Grated covers or simply Grated Covers are made up of GRP Gratings with a GRP skin usually 3 –5 mm thick on the top as a covering, with checkered or gritted finish on the surface. These are mostly used in sewage treatment plants, where foul smell and pungent gases will come directly through the opening.
Checkered Plate Cover:

Checkered plate covers are used where the loads are less and the covers to be removed frequently for inspection and maintenance purposes. The allowable loading is 150-200 kg/Sq. M & Max. Spanis1000mm.
Dome Shaped Covers:
Dome shaped covers are widely used where large spans to be covered and usually used for odor control purposes in Sewage treatment plants. The covers are made up with GRP Laminate of 6mm -12mm thickness based on the span and the loadings. These covers have inbuilt stiffeners moulded for additional strength. The covers are given a curved shape to cover a large area and larger spans. These covers are hand moulded to fit for custom shapes and requirements. The allowable loading on these covers are generally between 100 - 300 kg/Sq. M. The design loading can be higher if necessary with some additional stiffeners and more thickness for the covers.
Fiberglass Structural Shapes:
FIBERZONE maintains a large inventory of FRP Structural Shapes. Fiberglass Reinforced Plastic (FRP) Pultrusions have a surface veilto protect against glass fibers penetrating the resin surface and to increase corrosion and ultraviolet resistance. Specific profile geometry, the design engineer has a virtually unlimited supply of material options from which to construct a composite.