FRP Tanks:
Fiberzone is involved in offering comprehensive range of FRP Tanks manufactured as per the defined industrial standards.  These are corrosion resistant, leak proof and require easy maintenance. We offer these tanks in different capacities, sizes and shapes as per the specification provided by our clients. We offer an extensive range of FRP Tanks used to store various corrosive chemicals/ Oil/ Fuel and can withstand high temperature. These are available in various thickness and configuration including circular and rectangular.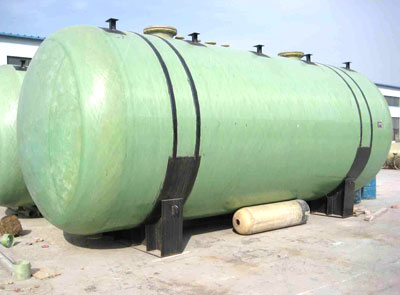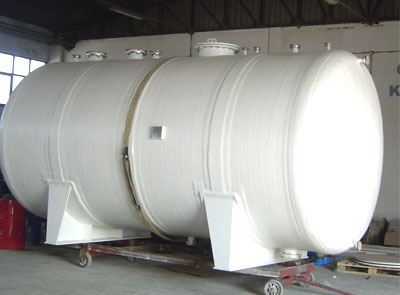 Advantages:
High ratio of mechanical strength to weight.
Chemical resistance to most of the compounds, no corrosion with water, sewage or effluent even after prolonged exposure to adverse environment and soil condition.
Low chemical & thermal conductivity.
Protection against mould, macro organism, Bacteria, Fungi, Algae.
Non Toxic approved for storage and handling portable water.
Applications
Water Tank, Septic Tanks & Soak ways
Fuel Tank, Oil Tank & Chemical Tank
Underground Holding tank
FRP pressure Vessels:
FIBERZONE is one of the reputed suppliers of FRP pressure vessels. Here each vessel is put to rigorous quality control tests like hydro test, weight test. We have wide range of standard FRP pressure vessels which make easier for customers to select the vessel as per required capacity & site/process conditions.
FRP Vessels are available in
Standard Polyester makes:- For general water treatment like filtration &softening.
Vinyl ester make:- For increased chemical resistance.
Salient Features:
Corrosion resistant.
Light in weight.
High impact strength.
Superior outlook.
Easy to handle & install.
Maintenance free.

FRP Scrubber:



Fiberzone's wide assortment of FRP Scrubbers is manufactured using high grade raw materials that are resilient and corrosion resistant. Designed as per the client's drawing and specifications, these scrubbers are applicable for neutralizing hazardous fumes and gases in various chemicals, dyes, intermediates, fertilizers, steel processing plants and pharmaceutical industry.

The quality FRP Scrubbers offered by us are apt for handling corrosive chemicals. Our scrubbers are appreciated for features such as corrosion resistant, maintenance free, easy to install and light in weight. These scrubbers are used scrubbing systems for gases like Cl2, SO2, NOX , HCL, H2SO4 ,Br2, HF, CuSO4 and acid mists, which either develop individually or as a mixture of various chemicals, pharmaceuticals, dyes, intermediates, fertilizers and steel processing plants.