SMC / GRP panel tank is modular in construction meant for storage of water.  The tank comprises of standard compression molded GRP /SMC panels of 1mx1m (h), 1mx1.5m (h),  1m x2m (h) with a flange thickness of 75mm all around. The panels are Externally fastened using stainless steel (SS304) bolts with a special type of sealant in between to avoid any leakage of water.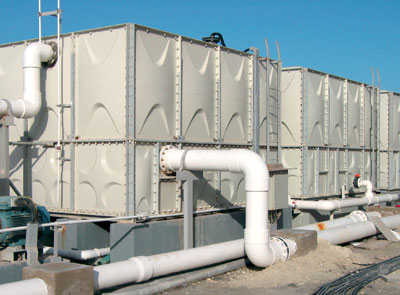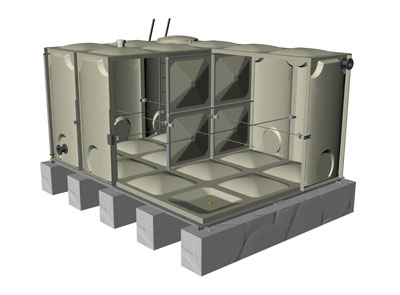 Features
FZ GRP panel water tanks are 100% hygienic inside and outside which does not harbor any foreign materials.
FZ GRP panels are 100% opaque and do not permit any light transmission and thereby absolutely no growth of algae or bacteria.
Modular in construction, very easy & simple to install any capacities from 1000 liters to 1M liters and above within a very short lead time
UV stabilized - Ideal tank for outdoor weathering.
FZ tank ensures 100% leakage proof by using the special sealant on each face of the panel.
FZ tank is designed to allow easy cleaning and absolutely no maintenance is required.
Lesser Self weight - hence ideal for constructing especially above the roof of the buildings.


Applications
Housing Colonies / Buildings for storing potable drinking water above the roof, over-head, ground level, basement and as well as in special cases as sump.
Fire-fighting tanks - The most ideal to be located in major buildings and plants.
Water treatment plants RO Plants / DM Plants for storing both raw water and as well as product water such as DM Water, clarified DM Water, Pure Water etc.
Highly chlorinated water / sea water for desalination plants.
Sewage treatment tanks for sewage treatment plants.
Make-up / PUF insulated chilled water tanks for A/c and refrigeration plants.
Rainwater harvesting storage reservoirs.